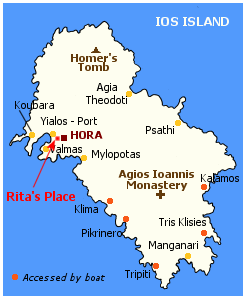 Rita's Place Hotel is located close to Hora (Village) and 5 minutes by bus to Mylooptas beach. From the hotel there is easy access to all parts of the greater Ios area using public transportation means such as bus and taxi. Bus stop is 25 metres only away.
Yialos is Ios' port, 2Km from Hora. Yialos is quieter than hora and has a sandy beach, taverns and bars. Close to Yialos are Tzamarias (picture on the left), Koubara and Kolitsani beaches. Behind the port climbs the old stairway to Hora (20 minutes). Alternatively you can take a bus to Hora or carry on to Mylopotas beach. From Yialos there are caiques to some of the beaches of the island. A great variety of restaurants will make a meal to remember.
Hora (or Village or Ios Town), the island's capital, is one of the finest towns in Cyclades. Built on the top of a hill, with medieval castle (built in 1400), white washed houses, maze streets, churches and a dozen of windmills reminding you of past days, when the islanders used the wind power efficiently to make their windmills work. There are remains of the walls of the ancient city. At the top of Hora is the chapel of Agios Nikolaos and under the castle the church of Panagia Gremiotissa. In Hora there is the Archaeological Museum of the island. Apart of that, most of the bars and clubs are in Hora, each one offering a different style of entertainment.